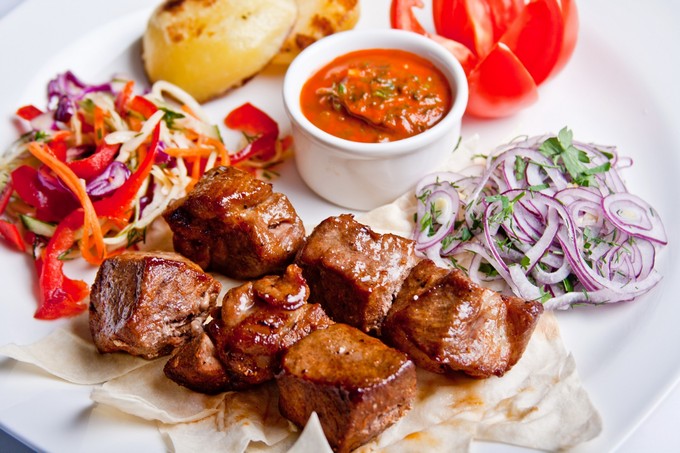 Jasmine
The kebab in "Jasmine" is big. It is easy to catch the wonderful fragrant aroma, and it is very wellfrizzled. It is soft and tasty. It is cooked in the tandyr, the traditional Kyrgyz oven.
District "Alamedin-1", Kalinina Street. / Cholpon-Ata
Street, Bishkek. T: +996 312 69-74-24
Bravo
The portion is average, but kebab is enough for one person. The taste is very nice. The pieces of meat are lightly crunchy by roasting itis extremely delicious. The skewer is pleasantly salty. The taste will make you come again.
146a, Akhunbaev Street, Bishkek
T: +996 554 600 601, +996 708 508 000
Navigator
Unlike the chicken kebab in the "Navigator", lamb ribs are served on a dry pita bread, decorated with lettuce. This would not normally be the perfect barbecue, but the difference is the perfect soft meat.
103 Moskovskaya Str. Bishkek
T: +996 703 647 064
Barashek
Served on pita bread with a nice homemade dressing. Not a big piece of meat, but it is soft and pleasant, moderately juicy and salty. And the service is genuinely friendly.
78 Aaly Tokombaeva Street, Bishkek
T: +996 312 521 111